Attractions
Laying at the heart of northern Europe, Brussels is the home of more than a million people and ten centuries of history. It is the quintessential "melting pot", where dozens of languages are spoken and cultures from all over the world are prominently represented. Serving as the de facto capital of the European Union, it is home to many international institutions, world-class museums, and well-known sights.
Many notable sights are easily reachable by foot or public transport from the conference hotel, including:
Grand Place, one of the finest town squares in Europe, is a UNESCO World Heritage Site and a beautiful display of Gothic and Baroque architecture.
Manneken Pis, a small bronze statue representing a child urinating and an emblem of Brussels' irreverent spirit.
Parc du Cinquantenaire is a tranquil park only minutes from the hotel by foot. Go up the Arc du Triomphe for a good view of the city skyline.
Magritte Museum
Horta Museum
Beer Mania has over 400 beers for sale
Pierre Marcolini sells some of the world's best chocolate treats
Galeries Saint-Hubert is arguably the world's oldest shopping mall, open since 1847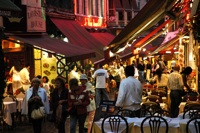 As eating out is a bit of a Belgian national sport, bars and restaurants for all occasions and budgets are especially plentiful:
Place St-Géry has many friendly bars and clubs, centered around a former covered market turned into a trendy café.
Delirium Café, minutes from the Grand Place, has over 2000 different beers

Falstaff, one of Brussels' oldest eateries, serves Belgian cuisine in a art nouveau decor every day until 2AM
Place Sainte-Catherine is the place to head for if you crave seafood, whether it's the traditional mussels-in-white-whine-sauce or fancy lobster dishes
Wikitravel has a lot more information.